don't forget:
you can buy records direct from me...just use the contact form.
maybe I can help you as well with sold out record items.
ruf der heimat

► new CD "Secrets", recorded live October 2019, with the great Christof Thewes on trombone, and Jan Roder on bass, taking the right turn.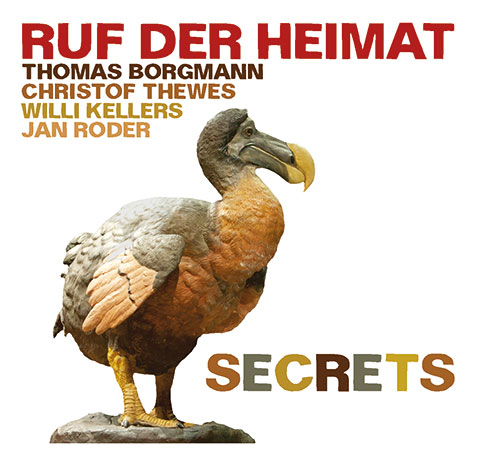 keys & screws with Jan Roder & Willi Kellers
~ some more jazz ~
John Sharpe @ Point of Departure:...it's an outstanding release.
Ulrich Steinmetzger, 5-seitiges Portrait: Sonic-Magazin, März 2021
new release: NoBusiness-Records

Thomas Borgmann Trio with Max Johnson, Willi Kellers
New York Tenor Saxophone Festival, Jan 31, 2015

"...Borgmann inhabits the wonderland of his saxophones...
His voice is lithe and his fingering on the buttons so nimble that the notes he plays seem like pixies, alive and dancing on the very notes of each melody.
Borgmann, of course sees a bird doing all of these wonderful things with the melodies, while he skips and floats on soprano and sopranino saxophones, effortlessly skittering up impossible high and equally unimaginable low tones on each of the high horns.
Even on tenor, Borgmann's touch is deft, almost glancing, as he crafts the narrative that follows his imaginary bird, the very personification of Dolphy—and anyone who graced the visions of the avant-garde playing a straight or curved horn, from sopranino to tenor.
The bird image, and the fluttering, soaring of the idiom of jazz itself, meet here, on the shimmering glacier of Borgmann's music." ✸hey little bird
Friday January 9th 2015 - 21:00 at AUFSTURZ, Berlin [Oranienburgerstr. 67]
just 60: Thomas Borgmann
stay tuned for the rest of the story…

Thomas Borgmann – reeds
Luten Petrowsky – reeds
Adam Pultz Melbye- bass
Christoph Winckel – bass
Jan Roder – bass
Tony Buck – drums
Willi Kellers – drums

organic the first set: a trio & a drum duo & another trio
free the second set: a quartet & a bass trio & the end
It is the voice inside the voice encountering the ear inside the ear, as reminisced by Khalil Gibran, the prophet, in Jackie McLean's song.
There was a moment in Denis Charles last concert in Weiden, in 1998, when everybody could hear how he puts his drumsticks down, takes his mallets, hits the cymbal with one single beat, when bassist Wilber Morris suggests a subtle downward line, still undecided where to go, as such a voice rises.
Soprano saxophone, air, moist reeds. One sound. Three tones, reiterating the bass motif.

All of a sudden, a sound fills the room – echoing something but still determined to stand alone. Whoever doesn't have at least one hair stand on end doesn't have a single one left.
And no ear inside the ear. A short motif only, found and agreed, a couple of last beats on the cymbals. This moment – played by BMC Trio, live – embodies all of Thomas Borgmann.
The way he fits in, the way he sticks out. His tone, elaborate magic, developed over many years, fills the room.

His themes, motifs, lines and stories are solid enough to stand alone and yet arise from inventions and constructions of others.
A voice, still eager to sing, in and above the laissez-faire (Charles & Morris), the impulsive (Reggie Nicholson & Wilber Morris), the crazy (Tony Buck & Joe Williamson) and the elegant (Willi Kellers & Akira Ando) nexus of the others; a voice responding to Petrowsky's weird interludes and striking a different, gentler song; a voice countering Brötzmann's existential shrieking.
Sing your song, black bird.

Some of the many outstanding musicians performing this evening have been a part of the instrumental choir before. Others, like Danish bassist Adam Pultz Melibye, will discover their ear inside the ear.
When this voice turns 60. Dankeschön.
~ Jan Künemund (translation by Ingrid Müller)
oneblockwest
thomas borgmann / reggie nicholson - drums / bernard santacruz- bass
regarding the release of nasty & sweet (bmn-trio, nobusiness-records),
we set up this new trio; available for concerts in July, August, November, December 2013
Bernard Santacruz is the new bass in this trio. There is a long ongoing connection to him, not at least 'cause his intensive work & productions with Denis Charles, Frank Lowe, Charles Tyler ...
recently in concert: boom box
"... ich war gespannt, ob die band live auch so leicht spielt. dass es jetzt endlich mal wieder eine sorgfältig aufgenommene, schön gestaltete cd dieser band gibt, bei einem guten label, ist ja die eine sache.
dass man ab und zu die musiker in berlin (viel zu selten) in einem kleinen club hören kann (obwohl sie alle in berlin leben) die andere: schön, aber durchaus nicht selbstverständlich. aber was heißt das konkret, wenn man nach einer anstrengenden woche und einem langen bürotag in diesen merkwürdigen keller geht, draußen hat der berliner winter nochmal zugeschlagen, der rotwein ist nicht gut und die anmoderation nicht gerade enthusiastisch? "jetzt gibt's jazz."
konkret heißt das: vom ersten ton an gefangen zu sein, mitzugehen mit dem, was die drei da machen. hat mit den kompositionen der cd erst mal nichts zu tun, "kompositionen" ist ja sowieso hier ein falsches wort.
ein langer, zurückhaltender bogen zunächst, gefühlvolle melodieverschiebungen des tenorsaxophons, traumhafte harmonische einbettung durch andos bass, atmosphärische perkussion von kellers. ganz zurückhaltend, suchend, ganz eindeutig in einer afroamerikanischen tradition, mit der alle drei sich sehr gut auskennen (borgmann hatte mit denis charles und wilber morris ein trio, hat in den usa mit william parker gespielt, charles gayle und vielen anderen; ando war lange bassist von cecil taylor; kellers hat mit gayle und frank wright gespielt).

hier geht es nicht um jazz als (erlernbare) sprache, sondern um eine suche, eine erweiterung, eine überwindung von formeln und methoden. so dass man beim gefühl anlangt, bei impulsen und energien.
das zweite stück ist dann von der cd und jetzt fliegt es auch wie dort, mit borgmann im fliegenden wechsel seiner saxophone, mit dem verschroben originellen swing, den kellers drauf hat, den man nicht lernen kann. grandioses bass-solo, grandioses drumsolo (mit gong, daumenklavier und 30 jahre spielpraxis).

nach der pause vertraut die band dann der so aus den handgelenken fließenden leichtigkeit nicht mehr und geht auf risiko. ein gefühlt 30minütiges solo von borgmann auf vier verschiedenen instrumenten (vielleicht habe ich da gerade die kirk-brille auf?), dann, am ende noch ein ganz leichter shuffle zu zwei akkorden auf der mundharmonika. zuletzt landet man beim einfachsten.

schade, dass boom box so eine ausnahmemusik machen und damit recht alleine dastehen. ohne es zu wollen, vermutlich. ist schönheit in der musik ein spezialistenthema? oder bringe ich das zu einfach zusammen - schönheit und diese musik? für mich ist das, was die drei da gestern abend gespielt haben, ziemlich genau das, weshalb ich "jazz" höre..."
~ found comment on www.jazzpages.com
✸ not quite new...but nice...reviews found +/-